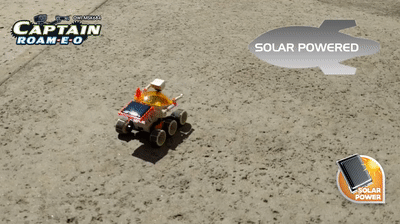 Let's work together to be a part of the larger conversation of energy efficiency and celebrate environmental friendliness and sustainability. Empower your children with the knowledge to make our world a better place to live. With that concept, OWI has fabricated a simple mini solar kit to engage curiosity and awareness.
Navigating planet Earth on two legs or less is a humanistic challenge. After failing to find love on Mars, OWI's CAPTAIN ROAM-E-O has landed on our native soil to show us its roving glory. CAPTAIN ROAM-E-O is a romantic all-terrain solar vehicle, equipped with 6-Wheel mechanical suspension and 4-wheel drive system. After building the 4.13 inch x 2.97 inch x 3.11 inch kit, it is competent to conquer and go beyond boundaries of other solar kits. It is ideal for a do-it-yourself science fair, after-school, or summer workshop project with the bonus gift of learning mechanical transmission and electrical motor theory. Experts believe that the retention of child's learning experience is multiplied if they can coordinate reading with actual hands on experience. With only 67 assembly parts, it's a wonderful instrument for the beginner enthusiast 8 years and up, and a gateway to ignite opportunities in fun learning.
CAPTAIN ROAM-E-O has a fantastic planetary gear transmission system and adjustable robotic arms to add more layers of fun. Harnessing the power of the sun, CAPTAIN ROAM-E-O is ready to take you on your next journey.
AWARDS:
Recommended Educational Activities
Green Energy & Robotics Technology Curriculum