Posted by Daniel Ramirez on 28th Aug 2023
We are always on the lookout for ways to enhance our partnerships and bring you more value. Today, we're thrilled to introduce our collaboration with Faire, a platform renowned for its unique benefits tailored specifically for wholesale partners like you.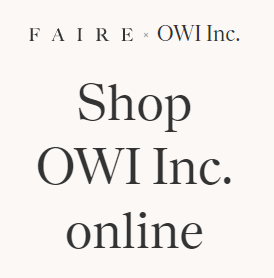 Why Choose Faire for OWI Products?
Exclusive Retailer Benefits:

60-Day Payment Terms: Improved cash flow management for your business.
Free Returns on First Orders: We ensure you shop with the utmost confidence.
Easy Payment Processing: Simplifying transactions for your convenience.
Special Offer: For retailers new to Faire, signing up through our direct link grants a $100 credit and 1 year of free shipping.
Ready to Elevate Your Retail Offerings?
Join us on Faire and explore our extensive collection. With our commitment to quality and Faire's exceptional offerings, we're confident this collaboration will bring unmatched value to your business.
If you have any queries or need further information, feel free to get in touch with our team. We're here to assist you.