Posted by Daniel Ramirez on 14th Mar 2023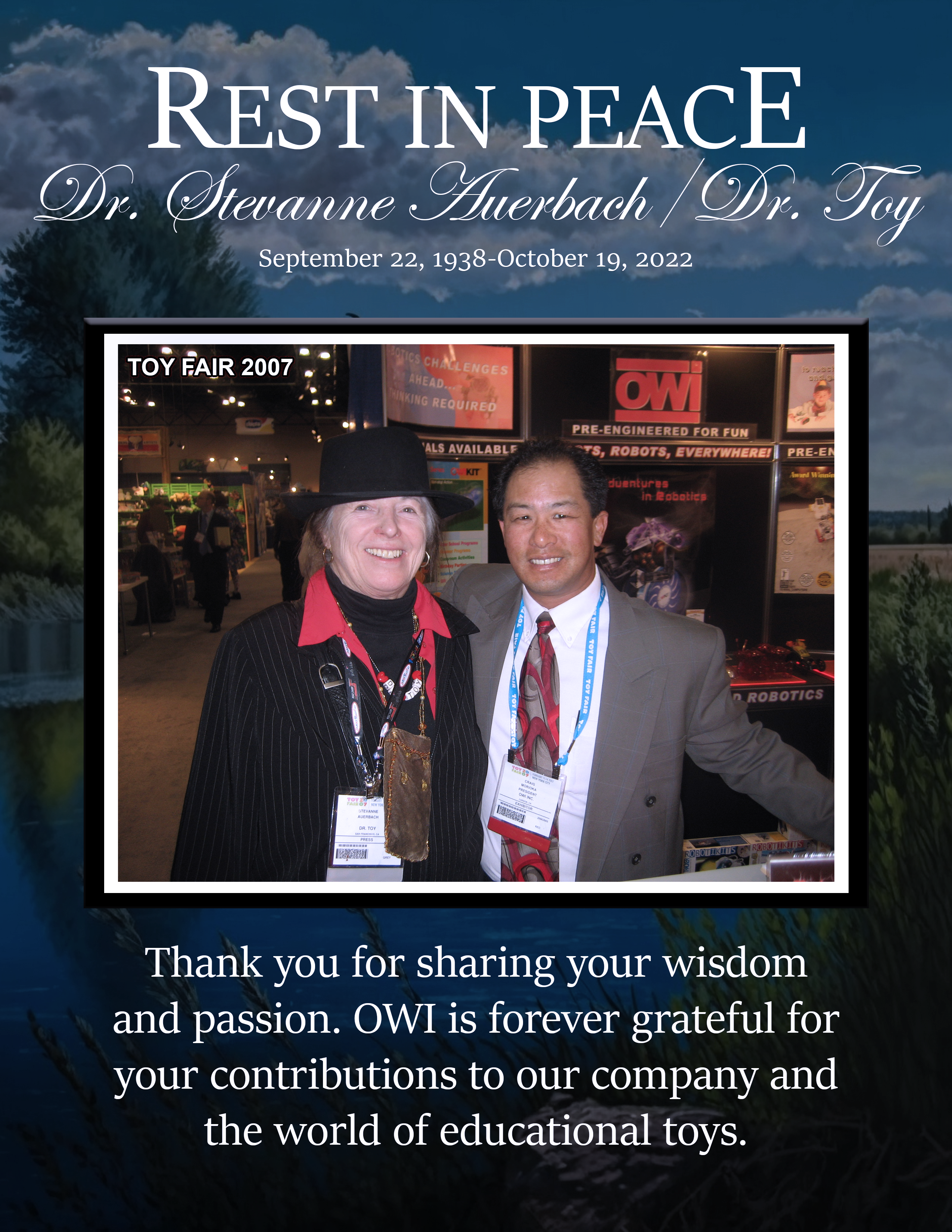 It is with a heavy heart that we bid farewell to Dr. Stevanne Auerbach, better known as "Dr. Toy," a tireless advocate for hands-on learning and a champion of creative play. The impact she had on our lives and countless others is immeasurable. As we remember her today, we look back on a moment that captures the essence of her mission and her unwavering dedication to educational toys.
In 1995, at the New York International Toy Fair, a sweet lady with a black elegant dress and matching brimmed hat approached our exhibition booth. Her words still resonate with us today: "Did you know, it's a known fact that kids today are spending more time in the virtual world of the TV or computer screen and less time engaged in actual, hands-on activities. Today more than ever, kids need to get away from this sedentary 'one-way' existence and experience life firsthand. More people need to know about your science and robotics kits."
Dr. Auerbach's mission was crystal clear. She believed that no matter the size of the business, consumers around the world deserved to know about the availability of high-quality, learning, and creative products. Under her guidance, and with the help of Peet's coffee and different varietals of Japanese sake, she educated us on the essentials of transition products. These products take children from basic toys to step-by-step planning and building, fostering creativity and learning along the way.
Dr. Stevanne Auerbach was more than just a mentor; she was a force for change in the world of children's toys. Her passion for hands-on learning has undoubtedly shaped the lives of countless young minds, inspiring them to explore, create, and grow through engaging and educational play.
As we reflect on the life and legacy of Dr. Stevanne Auerbach, "Dr. Toy," we at OWI are eternally grateful for her wisdom, guidance, and support. With every breath that we take, our company exists because of her unwavering belief in the power of hands-on learning. As we continue our journey, we will honor her memory by carrying on her mission to promote creativity, curiosity, and growth through the power of educational toys.
Rest in peace, Dr. Stevanne Auerbach, "Dr. Toy." Your light will continue to shine through the generations of children whose lives you've touched and the countless educators, parents, and businesses you've inspired.